We are thrilled to attend and exhibit Naturalist unique products and craftsmanship at the 3rd annual ICFF South Florida. The exhibit took place at the Ft. Lauderdale Convention Center December 4-6, 2018 and was a great opportunity for us to introduce our luxurious and innovative concepts to many architects, interior designers, visual merchandisers, and developers.
"We would like to say THANK YOU to everyone who visited our booth at ICFF South Florida! Your appreciation for our product and most importantly, our craftsmanship, is greatly appreciated. We look forward to working with you all in the future! We are also very excited to announce that we will be exhibiting with ICFF Official in New York City! See you in May 2019!", announced Serkan Yapicilar, Founder and CEO of Naturalist.
Many attendees and exhibitors came to visit our Booth #925 at ICFF South Florida. We are proud to say that Naturalist Booth was one of the most visited during those two days. Naturalist team was happy and excited to present its exclusive, singular resin wood tables, credenzas, and cubes, and give plenty of information about the craftsmanship and processes that stand behind each Naturalist product to all interested visitors. Stunning combinations of perfectly white and clear resin with natural, solid wood, their distinctive look, and luxurious feel attracted a great deal of attention and inspired many questions and ideas. We were happy to meet and greet other industry professionals at our Booth and so grateful for the opportunity to show the beauty, uniqueness, value, and convenient function of Naturalist products.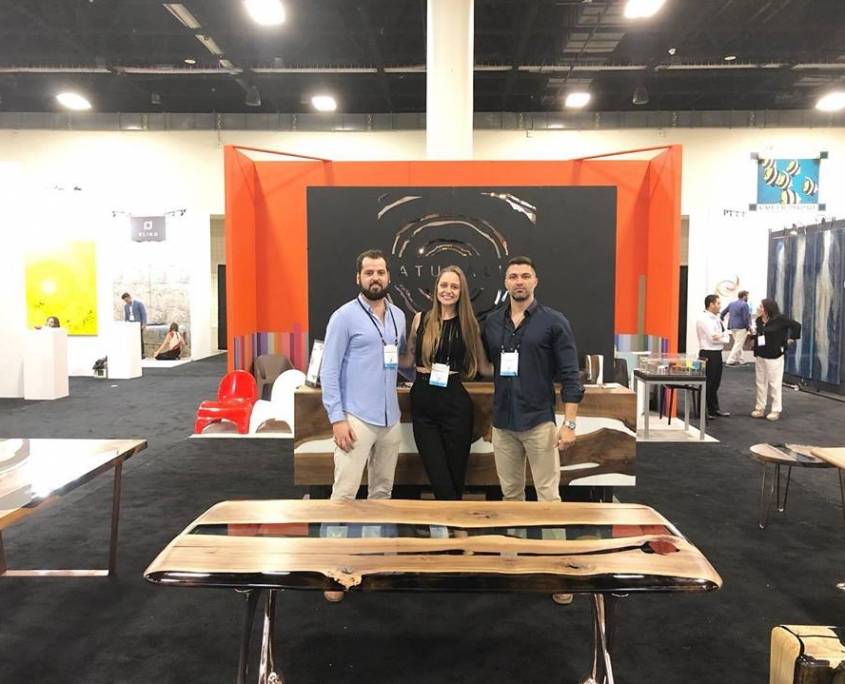 Naturalist Team at ICFF South Florida
Among many who visited our booth at ICFF Florida was Jody Miller-Young from ArchiExpo e-magazine; we are ever thankful for the interview:
"It took about two minutes at the show for me to fall in love; the next thing I knew, I was talking to a brand executive about the virtues of The Naturalist. Based in New Jersey, they mix natural wood with resin to amazing effect. Each material is special: The wood is only walnut and the resin, only ultra clear in black or white, but there's a method to the madness.
Walnut kilns and dries really well," Kara Kelly, VP of sales for The Naturalist, explained. "We kiln and dry typically for 2 to 3 years, and the walnut has these beautiful caramel tones naturally."
The ultra clear resin has a higher clarity than colored resins. Juxtaposed with the walnut, it creates a powerful combination that I can see enhancing both modern and more traditional spaces. Their signature, sand-cast aluminum bases can be finished in rose gold, gold or chrome, and they are stunning.
In addition to dining tables, the brand showcased cool credenzas, side tables, accent pieces and their newest product: a mirror collection."
Naturalist Modern Luxurious Furniture Selection at ICFF South Florida Exhibit
Everyone who came to visit us at Booth #925 at ICFF South Florida 2018 could see Naturalist one-of-a-kind, custom-made furniture pieces that perfectly blend resin and natural, solid wood, fusing luxury form and practical function for maximum convenience.
The Osso 80 Side Table made with solid walnut wood and clear as glass, high-quality resin is a statement of luxury that enticed an abundance of admiration.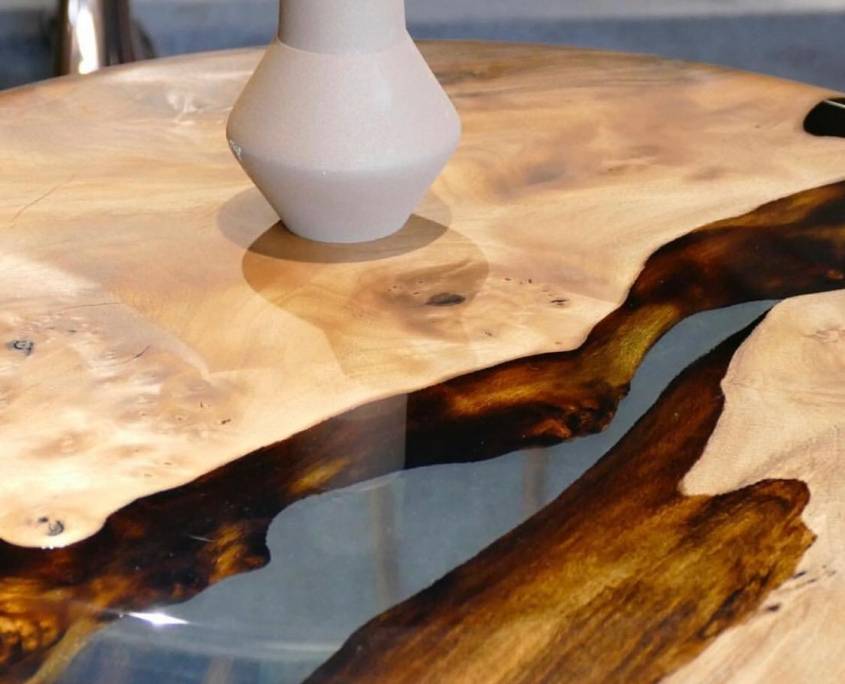 The Osso 80 Side Table Exhibited at ICFF Florida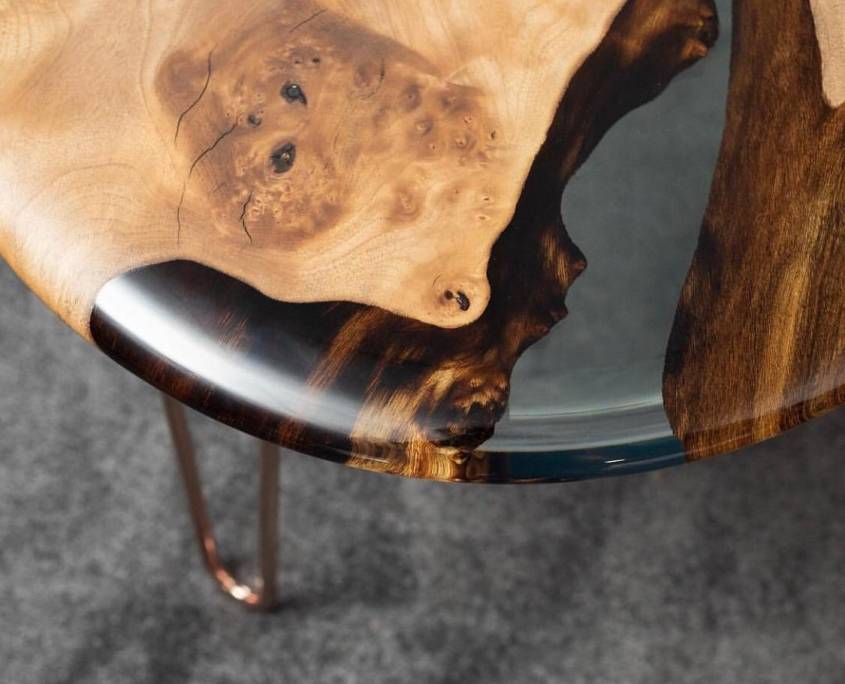 The Osso 80 Side Table Exhibited at ICFF Florida Detail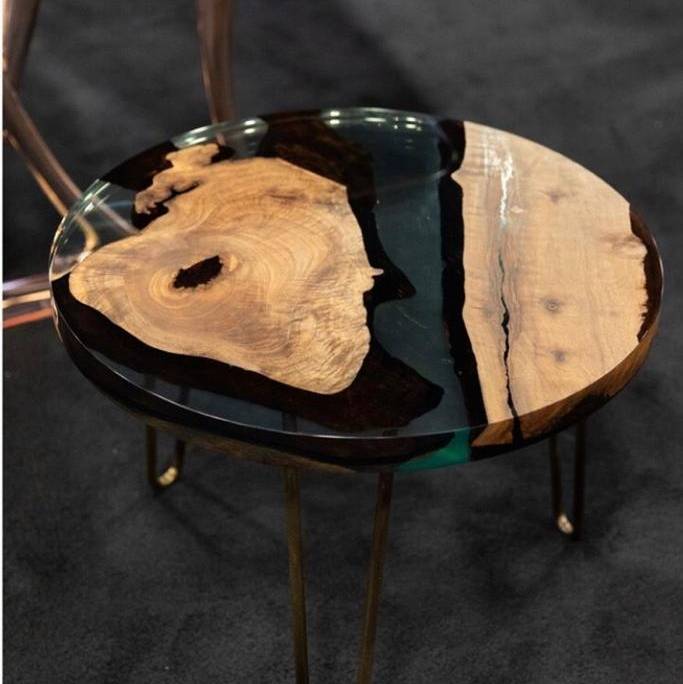 Osso 270 Resin Dining Table made with clear, high-quality resin and solid walnut wood that was kilned and dried prior to being filled with resin was one of the most popular pieces at the show. Its edges rounded to perfection and copper aluminum sand casted legs with light bronze finish inspired and encouraged our visitors to touch them and not only see but actually feel their refinement, precision, and excellence.
This table model of perfectly smooth rounded edges paired with our new sleek matte-black signature base is available now for custom orders only. You can email us at [email protected].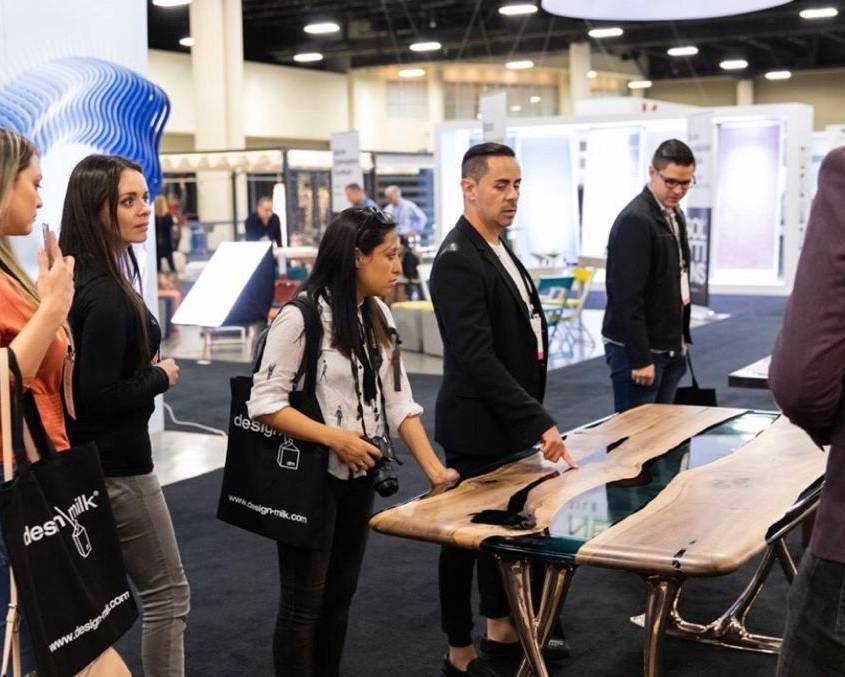 Naturalist Osso 270 Resin Dining Table attracted a lot of interest at ICFF Florida
Hudson 220 Resin Dining Table made with natural, solid walnut wood, high-quality resin, and beautiful cast iron geometric legs that feature edges straight cut to show the depth of the wood and its intricate unique detail, captivated plenty of attention and lured our visitors to inspect it from up close.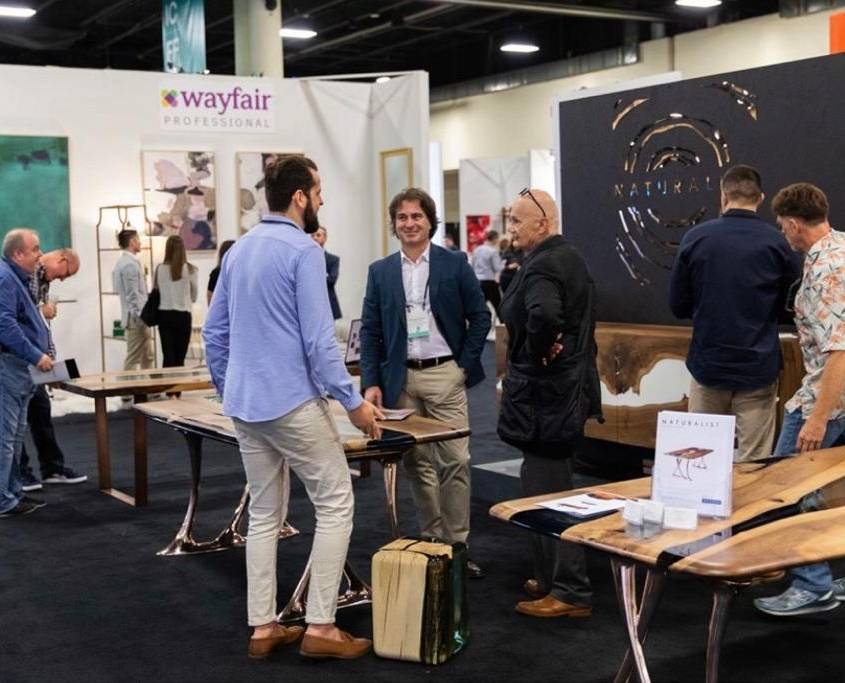 Naturalist Booth #925 at ICFF Florida
Hudson 220 White Resin Credenza is Naturalist statement furniture piece that defines ultimate luxury as the seamless transition from solid walnut back to milky, perfectly white resin in combination with cast iron legs with rustic brass finish. Expertly designed to take dinner parties to the next level, Naturalist White Resin Credenza was the central piece at our ICFF South Florida 2018 Booth. Emphasizing the rich natural tones of the walnut wood, white epoxy captivated a great deal of attention. We are sure that our guests will remember this unique look and that they will make sure to find us again.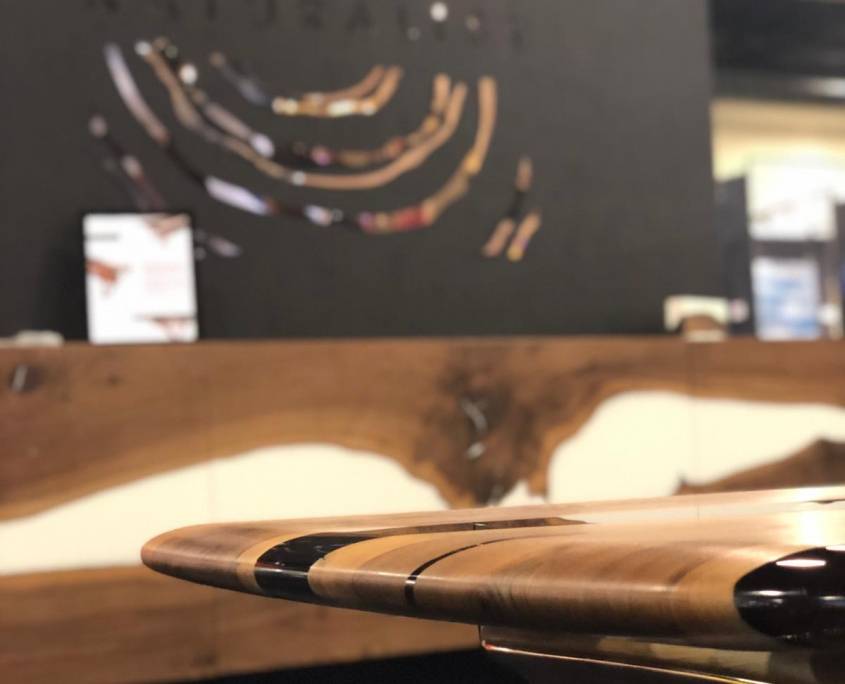 Detail from Naturalist Exhibit at ICFF Florida
Osso Resin Cube — futuristic and comfortably thought-provoking, this Naturalist product gives a tranquil feel of undisturbed, unique identity. This furniture piece perfectly complimented other Naturalist products at our ICFF South Florida furniture show Booth and showed just how wonderfully it can work in any home or office. Clear resin easily and seamlessly settles around the wood stump and provides a cherished feel of comfort, support, and convenience. Our visitors highly appreciated its detail, depth, and smooth, creamy and perfectly leveled surface.
See You Again in May 2019 at ICFF Official Show in New York City
Exhibiting at ICFF South Florida 2018 was a great opportunity for Naturalist to display its luxurious wood resin furniture products with other high-end furniture brands and learn first-hand more about furniture trends 2019. It was an honor to be among 200 of the world's leading furniture designers and manufacturers. If you visited this furniture exhibition, you now know what is best and what is next in luxury interiors. Naturalist is proud to be a part of this broad but highly focused selection of the most innovative, finest, inventive, and original avant-garde home and office products.
Our team is excited to see you again in May 2018 at ICFF Official Show in New York City, North America's platform for global design and anchor event for NYCxDesign. Attracting over 350,000 design enthusiasts every year, this event is New York City's official celebration of interior design. We are thrilled to exhibit with over 900 exhibitors from across the globe and showcase the newest Naturalist luxurious, one-of-a-kind, refined high-end wood furniture in May 2019.
Come See Us at Our Hoboken, NJ Showroom Soon
In the meantime, Naturalist is taking pleasure in working on new high-end wood and resin furniture design pieces. Visit us at our NJ Showroom at 651 Observer Highway Hoboken, NJ 07030 to find out more about our unique concepts and explore them first-hand. We will welcome you to closely observe and see from up close our Resin Wood Products, Metal Works, as well as our Live Edge Tables. You are also welcome to make a custom order for your home or office. We are certain that the selection at Naturalist Showroom will inspire new and unique ideas and stir your imagination. If you prefer to call first, feel free to do so at (917) 244-4342 or contact us through our contact form.