Furniture Collections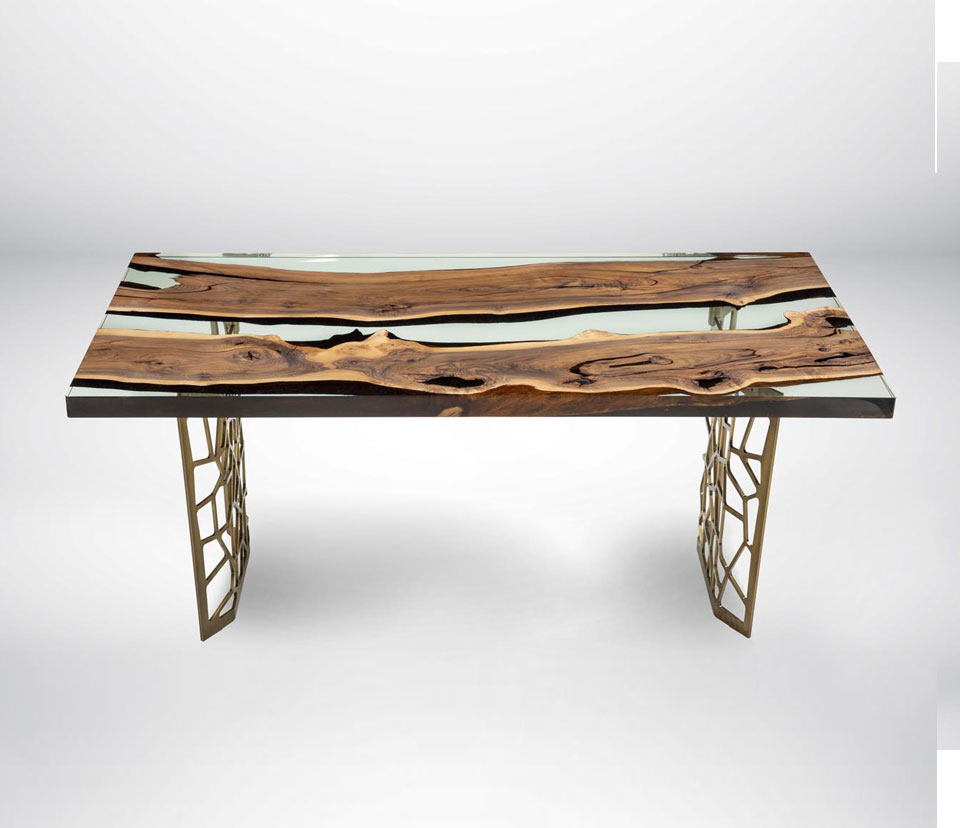 URBANE
Naturalist's singular furniture concept bonds crystal-clear epoxy resin with sustainably harvested walnut wood from Turkey. The Urbane, with its smooth-to-the-touch resin and reclaimed wood, is our flagship design and the ideal embodiment of our aesthetic and ethics. Hand-crafted to perfection and featuring its signature rounded edges, this table exudes both luxury and charm. The Osso base is our best-selling model due to its slender structure that perfectly complements the table's edging; but our special design program allows you to customize your piece so that it fits your décor while standing out as the unique fixture it is. Customers can choose each feature, from the base to the resin-to-wood ratio and overall dimension, with assistance from our skilled team of design experts. Let nature into your home with the Urbane, a design that is sure to stand the test of time.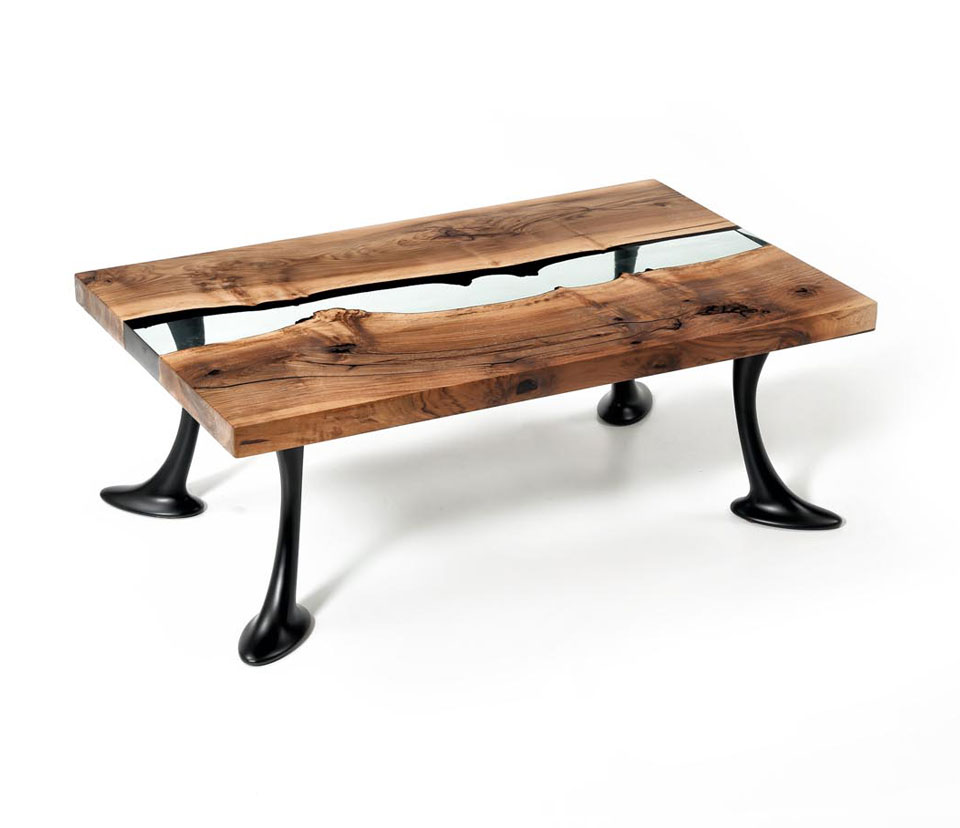 PRIMITIVE
The Primitive integrates the finest wood from responsibly managed forests in Turkey with Naturalist's perfected resin-pouring technique. This fusion of natural elements with modern materials is at the heart of Naturalist's work, and the Primitive flawlessly embodies this concept. Its edges are straight cut to show the depth of the wood and its intricate detailing, resulting in a modern feel that seamlessly melds high design with a timeless elegance. The Primitive illuminates the harmony between the walnut wood and epoxy resin and is hand-finished by one of our skilled makers to ensure each piece is perfectly smooth. We offer a variety of bases, resin-to-wood ratios, and dimensions to ensure a perfect fit into any space. Both classic and chic, the Primitive is a testament to the power of artisanal design and the value of bringing natural elements into your home.
LIVE EDGE
Welcome the best of the natural world into your space with one of our live edge tables. Classic wood construction is the hallmark of this collection. Constructed of sustainably sourced wood from the forests of Turkey, these tables maintain the wood's integrity and the character of the natural grain. Their clean finish and weathered edge will bring a natural charm to your space, imbuing it with an authentic rustic feel and plenty of character. A variety of bases are available to complement the natural tones of the wood. Each of our tables lends a certain uniqueness to your home that simply cannot be captured through mass manufacturing.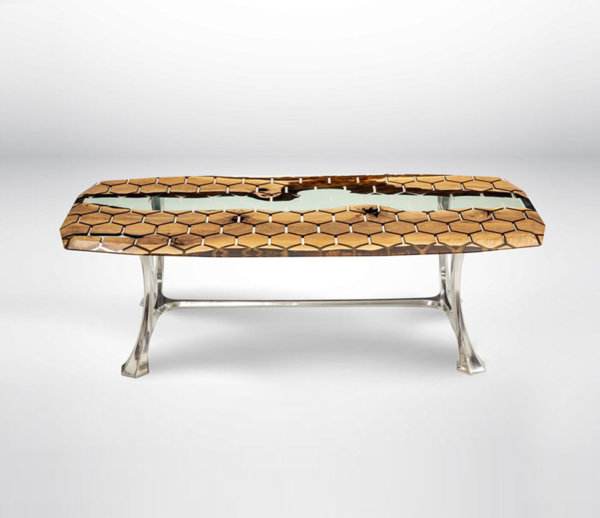 THE HEX
Stunningly unique, the repeating honeycomb pattern of the Hex was designed by Naturalist founder and lead designer Serkan Yapicilar. The Hex uses a new casting method that lends a certain mystery to the piece; the floating "invisible" hex shapes are achieved by utilizing a double-cast technique developed in our production facility. The result is an elegant and edgy piece that reveals a plethora of new details and meticulous craftmanship from each vantage point. With its distinctive motif and edging, the Hex stands apart from Naturalist's other designs. Its floating hexagons are hand-crafted to perfection, showcasing our reclaimed walnut wood, sustainably sourced from Turkey, inlaid with crystal-clear epoxy resin. Black-and-white resin is available upon request, but we highly recommended clear in order to fully appreciate the complexity of this design. The Hex is available in limited custom sizes.  
At Naturalist, we support the creativity of our makers and do our best to ensure that traditional woodworking skills are not replaced by mass-marketing. Our woodworkers sand each piece of furniture by hand, infusing it with their passion and love of the craft. This dedication is especially evident in the Hex, the perfect fusion of craftsmanship, innovation, and groundbreaking design.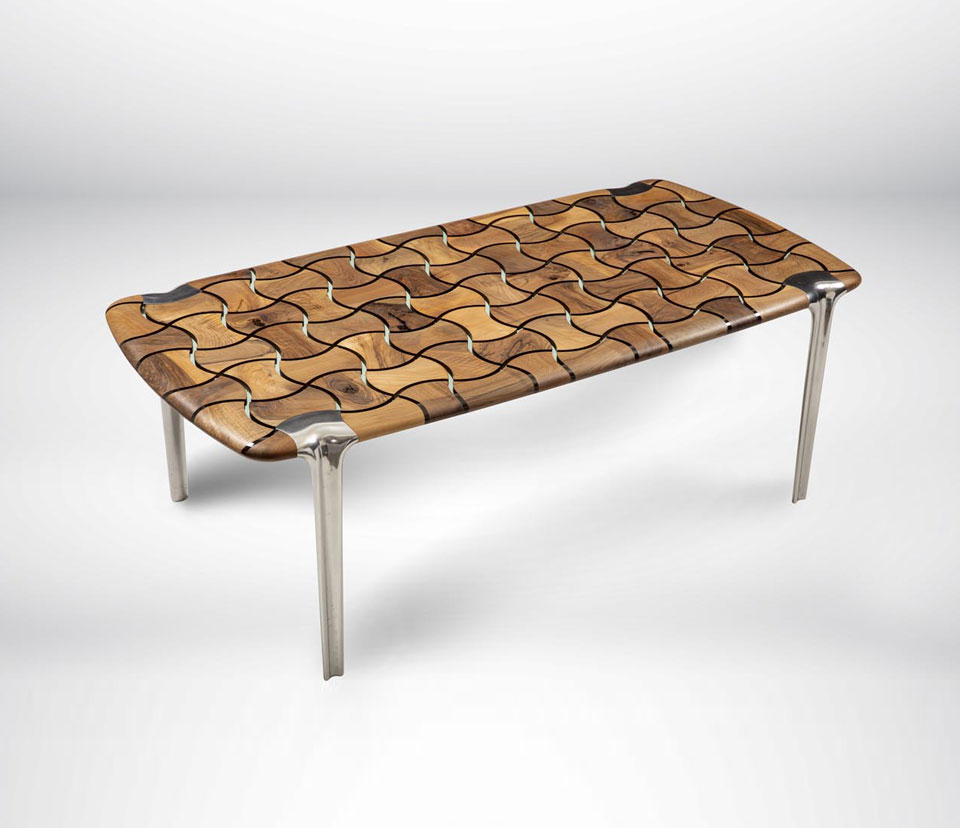 THE PATCH
Sleek and intricately designed, the Patch is created to highlight the natural beauty of our reclaimed wood, while simultaneously showcasing the clarity of Naturalist's special epoxy-resin formula. The floating walnut wood carvings give the illusion of solid wood, when in fact the Patch is comprised of distinct cuts of wood, bonded together with inlaid resin. Thanks to exquisite craftsmanship, this one-of-a-kind design reveals unique details from every angle. We leave the walnut wood exposed, resulting in a silky smooth and stylish addition to any room. The Patch is available in custom sizes, and its modern-day aesthetic is perfect for home or office. It can also be used as conference room tables, allowing for necessary AV features as needed. 
Naturalist's unique furniture concept bonds crystal-clear epoxy resin with sustainably harvested walnut wood from Turkey. We believe in the talents of our makers and do our best to ensure that traditional woodworking skills are not replaced by mass-marketing. By investing in a Naturalist design, you are not only letting nature in but welcoming a piece that will stand the test of time and stay in your family for generations to come.